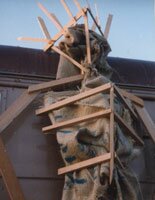 When people think of Burning Man www.burningman.com/, they think either of a giant party with no limits out in the desert, or of fantastical large-scale art pieces created to entertain and transport the  citizens of Black Rock, or maybe what comes to mind is the idea of a temporary community where the consumerist culture of everyday life is left behind. Burning Man is all the above and more.  At the special screening of "Dust and Illusions" dustandillusions.com/ at The Flicks www.theflicksboise.com/ last week, the audience was truly in the spirit of Burning Man.  Many people dressed up in fun, flash regalia and as soon as I took my seat, the person next to me asked me if I had been to Burning Man and when I'd first heard of it.  Soon there were several of us telling three things about ourselves and getting to know a little bit about each other.  When was the last time that happened to you at a movie theater?
The documentary itself is an entertaining and informative history of the desert festival that takes place every year in the middle of the desert in Nevada.  Olivier Bonin filmed the documentary in the co-operative spirit of Burning Man.  All the footage that he took of various groups of artists as they work to bring their creations to the festival is given to each group to use as they please free of charge.  That is virtually unprecedented and totally what Burning Man is all about. The movie captures the sense of wonder, fun, and rebellion and comraderie, and also the infighting and departures that either contribute or detract from the festival depending on your point of view. If you've ever been to Burning Man or aspire to, or merely want to find out what it's all about,  go see "Dust & Illusions" if you can find a screening near you.  As of this writing, "Dust & Illusions" is using special screenings like the one in Boise last week to raise money for final production including sound engineering and voice over.
Author: Christine Munson is an Examiner from Boise.
Original article from the Examiner Boise.