Cinesource is publishing a great article that talks about Dust & Illusions as San Francisco 8th Documentary Film Festival is approaching.
Buy Tickets online for Dust & Illusions @ SF DocFest 2009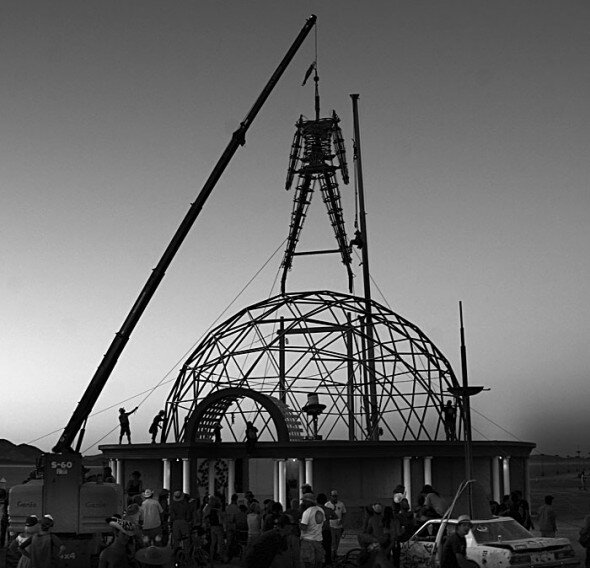 Whoa Man, What Time is It? The 'Man' goes up in Olivier Bonin's provocative, even critical, new film "Dust and Illusions," showing at DocFest. photo: photo SFDoc Fest
With the Bay Area home to Burning Man – the hugely popular desert pilgrimage which began here in 1986 with some artists celebrating a solstice on a San Francisco beach – the ticket to ride is "Dust and Illusions," by French-born filmmaker Olivier Bonin. With growing interest and more participants – last month, over 50,000 people come from all corners of the earth – this anarchic estrus of art, sensuality and bacchanalia must be addressed in film.
Amazingly, this is Bonin's first film, which we found out when we sat down with him and doubly astounding that he tackled the Burn, with the inherent problems of dust, distraction and the philosophy of the spectacle.
"I was doing still photography at City and one of my teachers told me that the pictures I was making – that I was trying to tell a story rather than take a still." Bonin learned filmmaking through friends who were already working on projects. "At that time, I was doing microelectronic engineering in the South Bay and I was making a decent salary, so I decided to just buy a Panasonic DVX-100 and see what I can do with it."
After getting a camera, all Bonin needed was a subject. A friend who had been doing a video on the Burning Man festival contacted him after the project fell through. "I'll just go there and film and see what happens," reflected Bonin on his interest in the Black Rock, Nevada festival site. While he cut his documentarian teeth on the DVX-100, he began amassing interviews with Burners old and young – even scoring several interviews with founder, Larry Harvey and 20 other key figures from the event's 30 plus-year history.
Bonin's film supplies a historical perspective on how the Burning Man event became associated with a counter-cultural movement in America. Perhaps more importantly, the film looks critically at how the meaning of the festival has changed over 20 years, from an existential form of expressionism to a more commodified ritual of indulgence.
Some critique is necessary to make sense of this powerful cultural event. It divides "the Bay Area media and arts community… into three: those bereft because their buddies all left for Burning Man… those who wouldn't go if you paid them, and the majority – those going to Burning Man!" according to CineSource's "B Roll" "What Does Burning Man Mean?" And it pushes the envelope of gender relations, sculpture, gift economy and alt-spirituality.
"Dust and Illusions" is just one of 11 films by Bay area artists, and one of more than 50 films featured in the DocFest from around the world.
---
Full Article has been written by Roger Rose &  Tom Mayers and can be found here:
http://cinesourcemagazine.com/…/docfest_8_at_the_roxie_has_burning_man_film/
You can also buy your tickets for a viewing of Dust & Illusions here:
http://sfdocfest.bside.com/2009/films/dustandillusons_sfdocfest2009